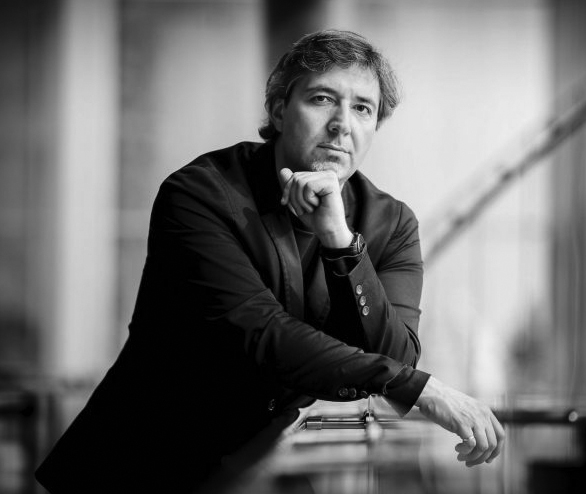 17 Led

Daniel Raiskin

"Daniel Raiskin is clearly a musician of sensibility, well versed in his craft; a further example perhaps of one last great gift of the old Soviet Union, the rigor and distinction of its conducting schools" (by David Gutman, Gramophone)

A son of a prominent musicologist, Daniel Raiskin grew up in St. Petersburg. He attended the celebrated conservatory in his native city and continued his studies in Amsterdam and Freiburg. First focusing on viola, he was inspired to take up the baton by an encounter with the distinguished teacher Lev Savich. In addition, he also took classes with Maestri such as Mariss Jansons, Neeme Järvi, Milan Horvat, Woldemar Nelson und Jorma Panula. Raiskin, who cultivates a broad repertoire, often looks beyond the mainstream in his strikingly conceived programs.

From the 2018/19 season Daniel Raiskin is Music Director of the Winnipeg Symphony Orchestra and has been recently appointed Principal Conductor of the Slovak Philharmonic Orchestra starting 2020-2021.

Since 2016/17 he is also Principal Guest Conductor of the Belgrade Philharmonic Orchestra. The engagements in the 2019/20 season include appearances with Iceland Symphony Orchestra, Slovak Philharmonic, Daejeon Philharmonic, RTV Slovenia Symphony, Staatsorchester Rheinische Philharmonie, State Academic Symphony of Russia "Svetlanov" and Stuttgarter Philharmoniker orchestras. Moreover, he will give his debut with Edmonton Symphony and Warsaw Philharmonic orchestras. With the Winnipeg Symphony he will undertake an European tour with appearances at the Concertgebouw in Amsterdam, De Doelen in Rotterdam and De Singel in Antwerp among others.

Daniel Raiskin was Principal Guest Conductor of the Orquesta Sinfónica de Tenerife (between 2016-18) and Chief Conductor of both, the Staatsorchester Rheinische Philharmonie in Koblenz (2005-2016) and of the Artur Rubinstein Philharmonic Orchestra in Lódz (2008-2015).

His regular guest engagements include the Athens State Orchestra, Copenhagen Philharmonic, Düsseldorfer Symphoniker, Iceland Symphony, Japan Century Symphony, Malmö Symfoni Orkester, Mariinsky Orchestra, Moscow Philharmonic, Mozarteumorchester Salzburg, National Symphony Orchestra Taiwan, NDR Radiophilharmonie Hannover, NFM Wroclaw Philharmonic, Orchestre National de Belgique, Orchestre National de Lyon, Orquesta Sinfónica Nacional de México, Osaka Philharmonic, Residentie Orkest, RTV Slovenia Symphony, San Antonio Symphony, St. Petersburg Philharmonic Symphony, Slovenska Filharmonia Bratislava, Stavanger Symphony, State Academic Symphony of Russia "Svetlanov", Stuttgarter Philharmoniker, Swedish Chamber and the Tonkünstler orchestras. His appearances in opera productions include Bizet's "Carmen", Shostakovich's "The Nose" and Mozart's "Don Giovanni".

Among the major soloists with whom Daniel Raiskin has appeared are Emanuel Ax, Renée Fleming, Nelson Freire, Martin Fröst, Alban Gerhardt, Vadim Gluzman, Natalia Gutman, Kari Kriikku, Simone Lamsma, Lang Lang, Francois Leleux, Jan Lisiecki, Alexei Lubimov, Tatjana Masurenko, Albrecht Mayer, Daniel Müller-Schott, Olli Mustonen, Steven Osborne, Julian Rachlin, Benjamin Schmid, Julian Steckel, Anna Vinnitskaya and Alexei Volodin.

Recent recordings include Mahler Symphony No. 3 and Shostakovich Symphony No. 4 for the label AVI, both to great critical acclaim. His recording of cello concertos by Korngold, Bloch and Goldschmidt with Julian Steckel and the label AVI received an Echo Klassik Award in 2012. Other recent recording projects include a Louis Glass Symphony cycles and a concerto cycle of the entire concertos and rhapsodies by Aram Khachaturian, both for the label CPO, Lutosłlawski's vocal-instrumental works for the label Dux and a recording of Alexander Tansman's Isaie le Prophète and Psaumes with the label World Premiere Recordings.