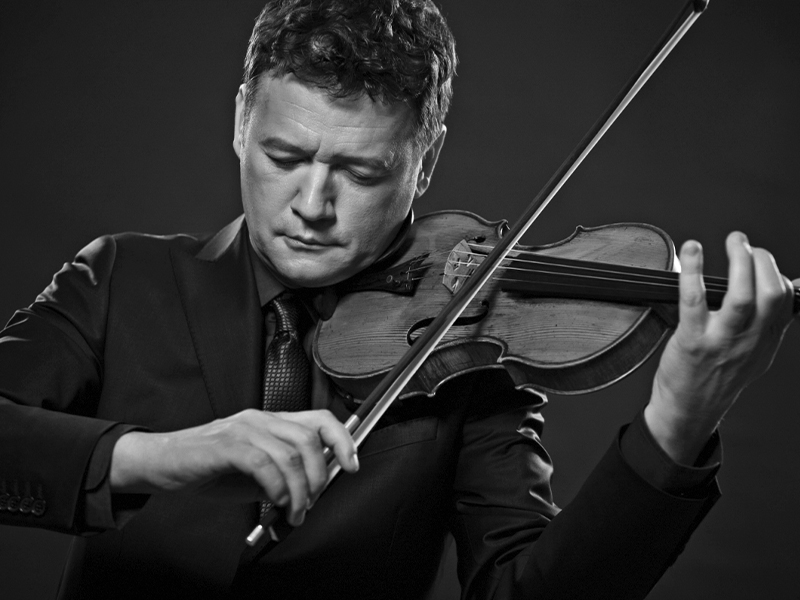 12 Jan

Master Class with Ivan Ženatý

Janáček's Sonata for Violin and Other Violin Compositions by Czech Composers

Additional event of the Festival

Friday 17/6 – Sunday 19/6

Hukvaldy, Birth House of Leoš Janáček

The excellent Czech violinist Ivan Ženatý returns to the Festival of which he was president in the past to use his teaching experience from the USA and Germany in master classes. He did not consult with no one less than Master Josef Suk on the interpretation of Czech classics. It is a certainty the courses will be quite exceptional for all participants.

We invite all students and graduates of art schools to actively participate in the master classes.

What the masterclass will be like and what you will take from it:
The masterclass will focus on studying the violin work by Leoš Janáček and other Czech composers in the authentic environment of the author's birthplace. Active participants are guaranteed at least two teaching lessons, but if necessary and permitted by the current time availability, the lessons can be extended – the main criterion for us is not the exact time, but the quality of the result. During the masterclass, active and passive participants will have the opportunity to visit the Leoš Janáček memorial. The masterclass will be concluded with a gala concert.

The masterclass will be led by Ivan Ženatý with Stanislav Bogunia on the piano.

The programme includes
2 teaching lessons (45 minutes each) for all active participants
the opportunity to perform at the final gala concert
a lot of practice hours
the possibility to record an audio from the concert
the possibility to purchase music materials and publications about L. Janáček
an attractive and interesting additional programme
At the end, each active participant will receive a certificate of completion of the masterclass.
It is possible to attend the masterclass both actively or passively.
Active participation is recommended to:
students and graduates of conservatories and art colleges
laureates of regional competitions of art schools, and other competitions for children and the youth
Preliminary programme: 
17 Jun
11 am – 1 pm arrival, accommodation
2 pm presentation, welcome ceremony, specification of the schedule of lessons and practice hours, introduction of the course
3 pm – 7 pm course 1
18 Jun
10 am – 12 noon course 2
12 noon – 2 pm lunch, break
2 pm – 6 pm course 3
19 Jun
10 am – 11 am additional programme (a visit to the memorial, etc.)
afternoon dress rehearsal
4 pm concert, awarding of certificates, hosted by Jaromír Javůrek, festival director
Arrival of participants
Checking of the attendance, specification of the schedule of lessons and practice hours: 17 Jun from 2 pm in the Leoš Janáček Elementary School.
Masterclass Fee
Passive participants: 500 CZK / 20 EUR
Active participants: 1 500 CZK / 60 EUR
Accommodation:
Penzion St Florian, Příbor (7 km far from Hukvaldy, before the commnecement of the course, participants will be provided with the information regarding the transport from Příbor to Hukvaldy)
Price: 700 CZK/ 27 EUR / a night with breakfast
Application
The application must be completed electronically here.
The application is submitted by both active and passive participants
The application deadline is May 31, 2022. 
Selected participants will be informed about their admission to the masterclass.  Upon your admission, please pay the course fee (and accommodation) and send us a confirmation of the payment (a copy of the bank statement, etc.), no later than by June 10, 2022.
Please, send the payment to the following account
CZK account
ČSOB, a.s. Ostrava
185 514 525/0300
var. symbol: 002002
or:
EUR account
ČSOB, a.s. Ostrava
198 496 071/0300
IBAN: CZ79 0300 0000 0001 9849 6071
BIC: CEKOCZPP
var. symbol: 002002
Please, fill in your name, surname and MK 2022 as a payment reference (e.g. John Smith MK 2022).
If you have any questions, please contact us at vstupenky@mhflj.cz or tel. +420 774 902 702.